Jey Uso reunited with The Bloodline for a recent WWE Live Event match and caused a huge divide in fans' reactions.
Last Friday, Jey seemingly abandoned his brother, forcing Jimmy Uso to pick a new tag team partner for a dark match. He had promised Jimmy he would always have his back. However, he stood and watched his twin brawl with Sami Zayn instead. Interestingly, Jey Uso neither saved Jimmy nor did he save Sami in the segment.
This Saturday, The Usos and Solo Sikoa were scheduled for a 6-Man Tag Team Match against Drew McIntyre, Sheamus, and Braun Strowman on a live show. Jey Uso was initially nowhere to be seen, which left The Bloodline short-handed at the start of the match.
Jey Uso joined the Bloodline in a match at last night's #WWE live event! pic.twitter.com/oY8P7RWc9V

— wrestling.killer (@wrestlingkill3r) February 26, 2023
Nonetheless, Jey made his way into the ring just in time to help his brothers. He picked up the win for The Bloodline after pinning Sheamus with a surprise roll-up maneuver. However, he left the ring immediately after the match and refused to engage with his brothers in the post-match segment.
WWE fans seemed divided in reacting to Jey Uso's brief reunion with his fellow Bloodline members on the house show. While a few took it as a sign implying Jey Uso would ultimately pick his family over Sami Zayn, others urged him to go against Roman Reigns. Fans couldn't predict Jey Uso's next step but were united in hailing him as the main event superstar.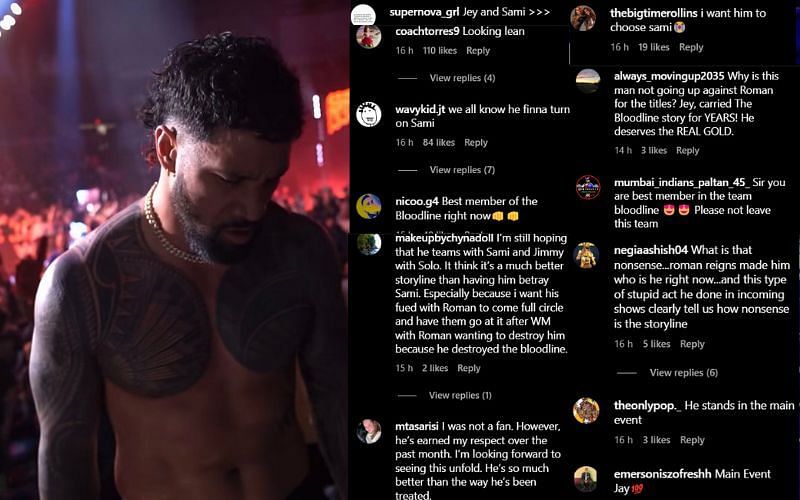 Solo Sikoa sends a cryptic message after Jey Uso's recent actions in WWE
Solo Sikoa recently shared a one-word message on his Instagram story. He has been teaming up with Jimmy Uso in the absence of Jey. Solo shared a picture of his entrance alongside Jimmy, captioning it with "Us" and a blood drop emoji. This led many to believe Solo might choose Roman Reigns if Jey betrays The Bloodline.
— WrestleSR (@wrestle_sr) February 27, 2023
Jey Uso has maintained his distance from The Bloodline ever since they attacked Sami Zayn at the WWE Royal Rumble. He went a step beyond at Elimination Chamber when he stopped The Tribal Chief from hitting Zayn with a steel chair but proceeded to hit Sami himself later on.
The Tribal Chief is set to return on WWE SmackDown this week to make his first appearance since defending his championship at the Elimination Chamber. He had said he would deal with Jey on the blue brand. It will be interesting to see what happens when The Bloodline brothers finally cross paths.